This course is suitable for photographers and creative entrepreneurs looking to learn how to take stunning lifestyle product shots.
You know that having beautiful images in your portfolio is key to attracting your dream clients, and that poor images are working to the detriment of the reputation you are longing to build.
Now we are in a new decade and you are so ready to take your business to the next level. You would love to take control of your imagery and learn to take beautiful images for yourself, but you're nervous and a little overwhelmed at the idea of learning how.
The course is designed to take you from the basics of camera control and lighting right through to understanding how to create a signature style. Through six modules of bite-sized videos and pdfs that you can watch and review in your own time, you will quickly learn how to create stunning lifestyle product images for yourself. Included in this course is a dedicated Facebook group where you can reach out for support during the course and beyond.
The course also comes with some incredible bonuses, showing you how to shoot behind the scenes portraits, photograph in your garden, interior spaces and architecture.
You will walk away with the confidence and skill to photograph your products with a signature style that makes you proud.
HOW IT WORKS
This is your opportunity to learn with a photographer who has 12 years professional experience and who is a Fellow and Distinction assessor of the Royal Photographic Society, have your images personally critiqued and ask any questions. 
Through this programme, you'll not only know how to use your camera in manual mode but you'll have a firm idea of your style and visual identity and know-how to create it. You will have my personal attention to help you up your photography game. 
The course is designed in six modules to be done over 8 weeks. Note though that the teaching classes are pre-recorded and you get full and continued access to all materials, so you can learn at your own pace, whether that be fast or slow. 
Every module has extensive material in the form of written pdfs and videos. There are 5 bonus modules covering relevant topics to expand your growth
The material is broken in to bite sized pieces for easy learning and reference. The course contains 58 videos and 43 files.
Each module has several short exercises so you can immediately put into practice what you are learning and ask questions if you need to 
A private and dedicated Facebook group for course participants where you are invited to share your progress and images for comment and growth. You can ask any questions (no matter how big or small) within the group and I will be on there regularly, so you will have your questions answered by me as well as having input from your peers.
Module 1: Camera settings
You will learn how to understand and use your camera settings (including manual settings) to control light and depth of field. You will get to grips with all things technical that you need to know, and not worrying about the rest.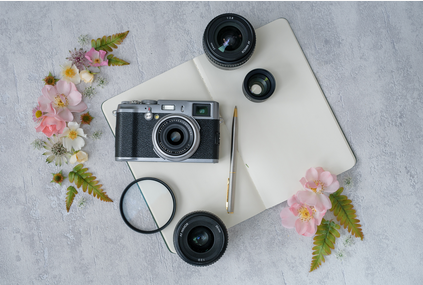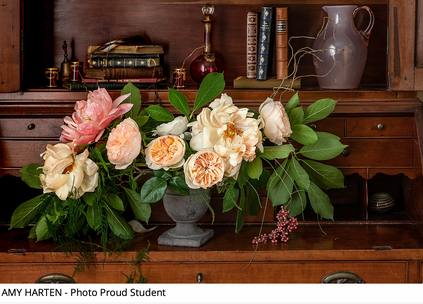 Module 2: Light
You will learn to be able to see and manipulate different types of light and learn how to get the best out of indoor and outdoor light, low and bright light. We cover what you need and how to create a simple home studio space to shoot your creations on a day-to-day basis, and how to make your own backdrops.
Module 3: Architecture of the image & Flat Lay Photography
You will learn to understand and apply compositional rules to create different atmospheres and impactful images. You'll learn how to create incredible flat lays and master colour theory.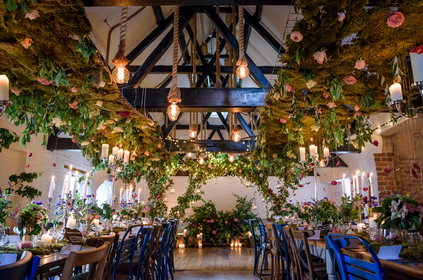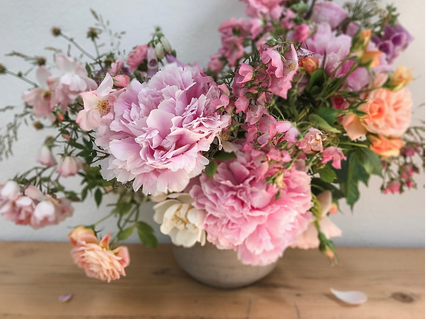 Module 4: Phone Photography
You will learn the advantages and limitations of using a camera phone and how to get the very best out of using your phone for those situations when 'the best camera is the one you have with you'! This module covers both shooting and editing on your phone.
Module 5: Editing - giving images a professional-looking edge
You will learn basic editing techniques to adjust light, colour and structure, and clean up techniques on the computer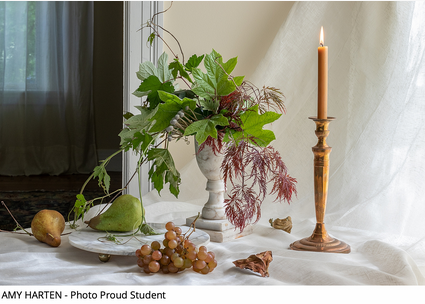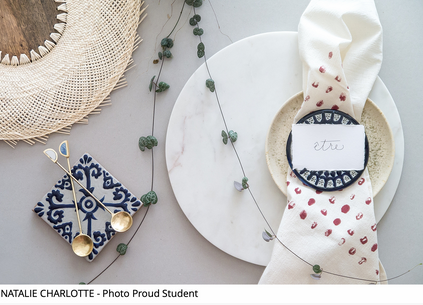 Module 6: Developing your style
You will learn how to put together what you have learnt over the last five modules to create your own visual style, to capture your vision and help your brand stand out. You will pull together what you have learnt in a series of 'reference guides' for settings that will allow you to work fast in a set of different lighting and environmental situations.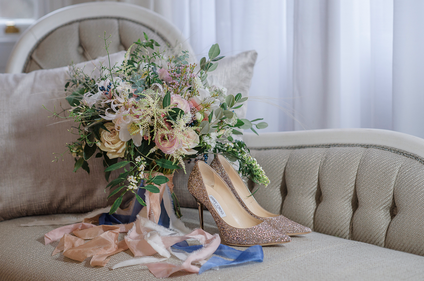 BONUS ONE: PUTTING IT ALL TOGETHER
In this bonus you get a reference guide with summary sheets of how lots of different images were created, and I walk through some of my commercial work galleries for you to see the breath of images I shoot and how I approach different situations.
BONUS TWO: GUIDE TO GARDEN PHOTOGRAPHY
If you grow your own flowers and have an allotment or smallholding, it can be a really important part of your brand story to show off your fields and flowers in situ. This guide it designed to help you take beautiful images of your growing space and the flowers in it.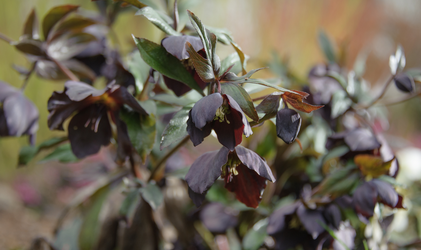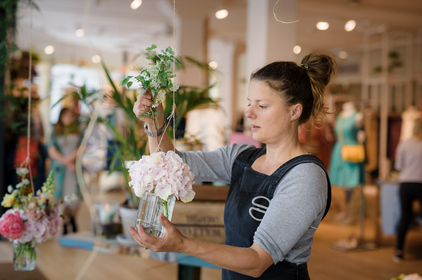 BONUS THREE: GUIDE TO SHOOTING BEHIND THE SCENES
If you're sharing your work online, you'll benefit greatly from sharing your personality and process as well. In this guide I cover how to take self portraits, how to take pictures of you working and how to take great portraits of others and capture them in action too.
BONUS FOUR: GUIDE TO INTERIOR PHOTOGRAPHY
This guide is designed to help you get the very best out of photographing your interior space. You don't need a lot of fancy kit, but we will consider what you need and what techniques will help you take the best shots, from the best viewpoint to post processing to make your images sing.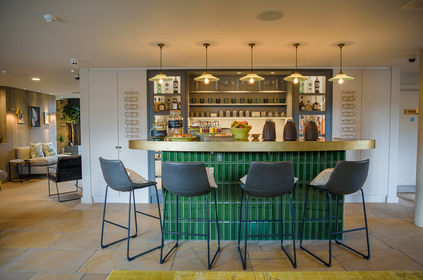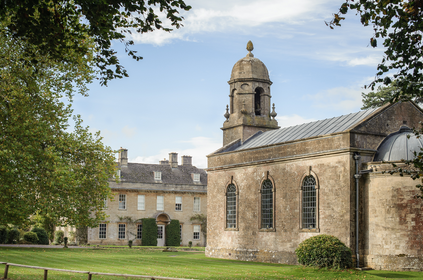 BONUS FIVE: GUIDE TO ARCHITECTURAL PHOTOGRAPHY
For really stunning architectural photography, quality of your image is a must. You are often dealing with situations with a wide range of light and there is specialised kit and techniques to help you do this with success. This guide is designed to help you get started with beautiful architectural photography.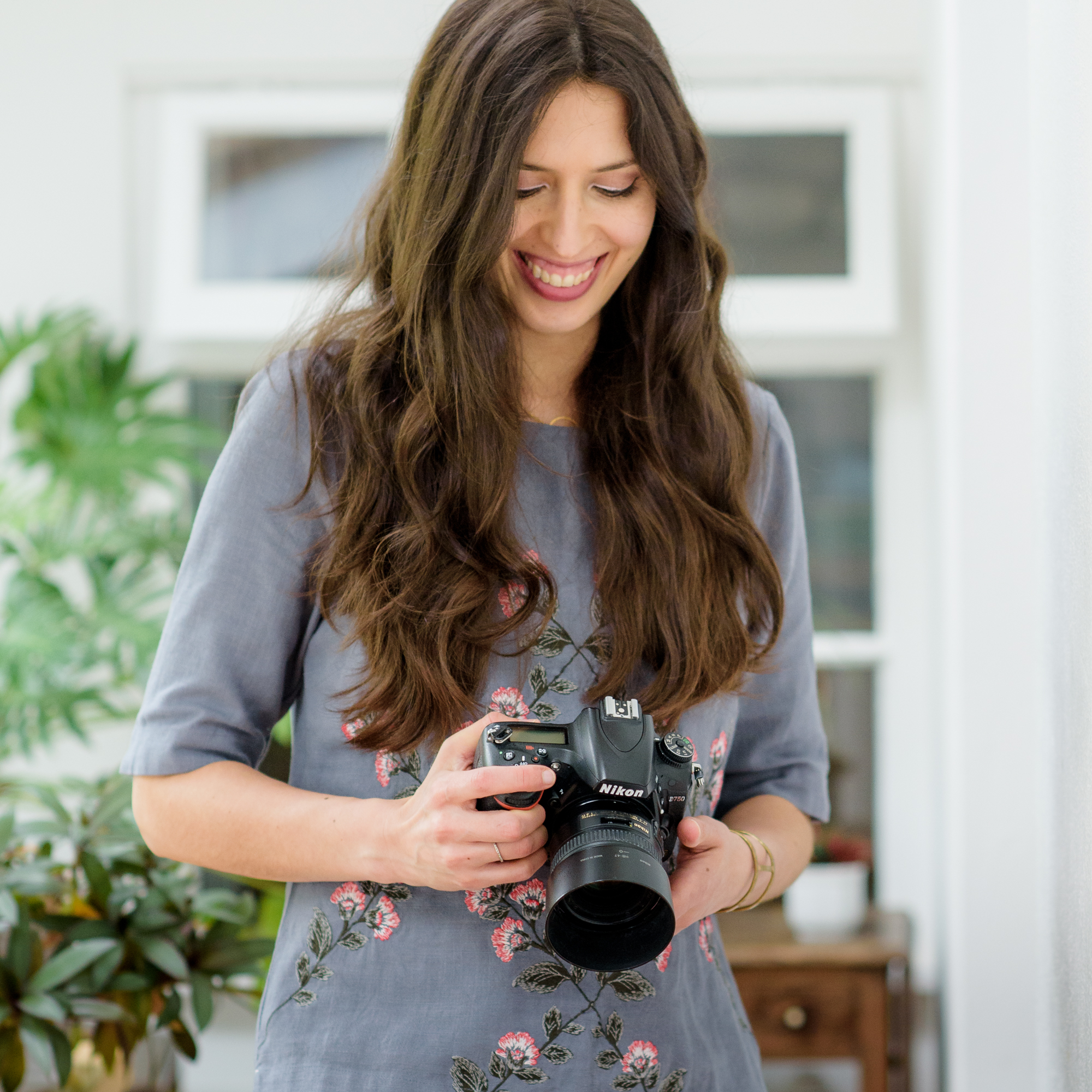 Ria Mishaal is passionate about crafting authentic and artistic imagery. Ria has built a six-figure photography business shooting weddings, portraits and high-end commercial photography, and was awarded the prestigious distinction of Fellowship of the Royal Photographic Society in 2018 for her Project Animalia.
Ria uses her 12 years of professional photography and her 15 years of teaching experience, to help her students learn the fundamentals of photography, visual style, branding and business so they can harness the power of creative photography and work with more of their ideal clients.
She lives in Hampshire with her husband and daughter in an old house with a wild garden, full of trees and birdsong. She loves the peace of long walks in the woodland and the magical feeling of early morning and late afternoon light. Stories are her great love.